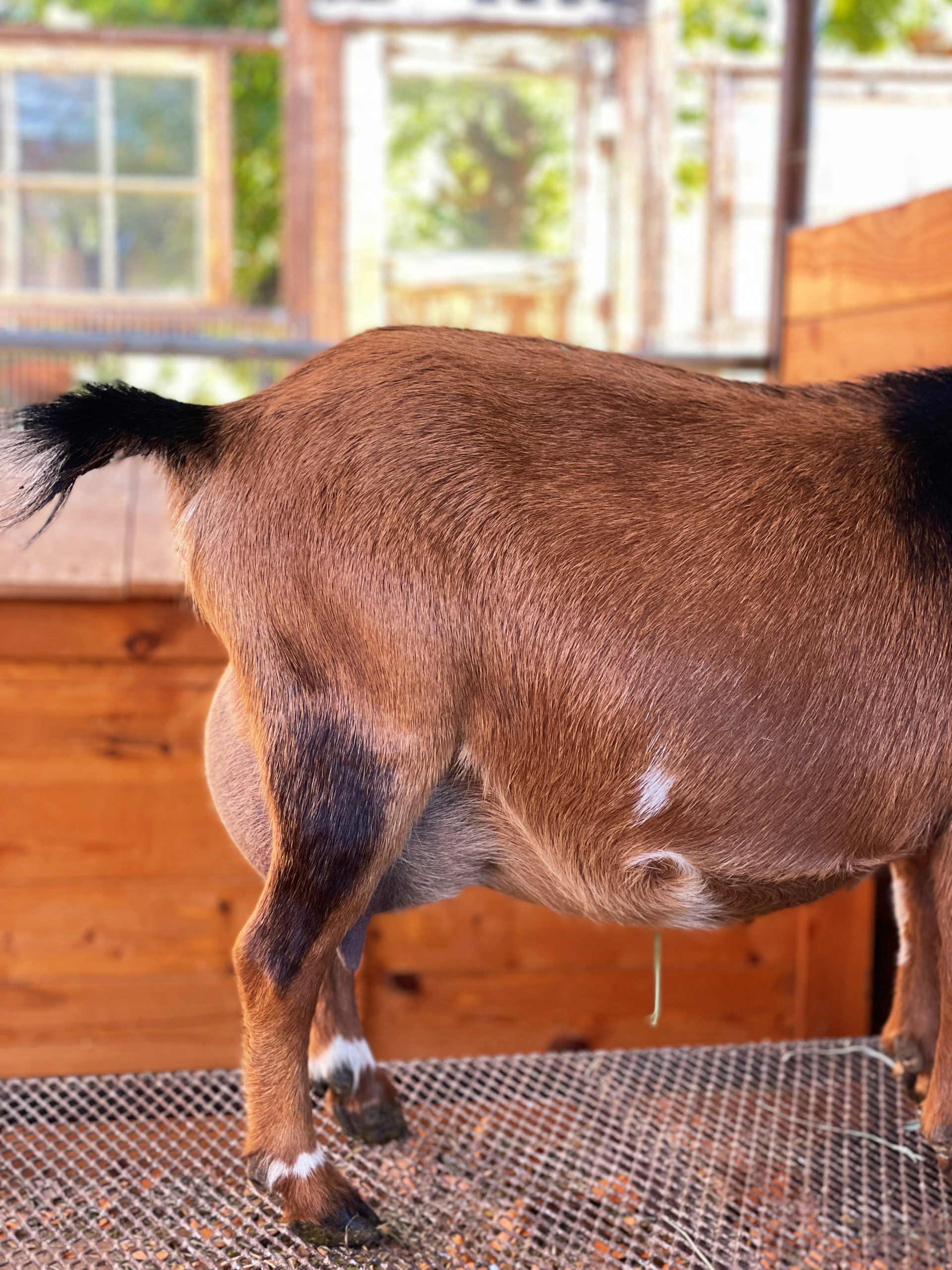 Tilly is our small but efficient senior doe. Unfortunately she broke a rear leg as a baby, and has never been correct enough to show, but she always throws very long & wide offspring and we're happy to have her in our herd.
DAM:
BACK IN TIME DD SISSY
DAM'S DAM:
BACK IN TIME FGC SUNNY
DAM'S SIRE:
DILL'S CC DONE
SIRE:
THE BLUNDEROSA SCOOBIE-DOO
SIRE'S DAM:
AGS BLUNDEROSA BUTTONS AND BOWS
SIRE'S SIRE:
AGS BLUNDEROSA BOOT SCOOTIN BOOGIE
DHIR MILK TESTING RECORDS

Hazel's best feature is her beautiful uphill carriage and strong front assembly. She also has a nice, level rump and perfect topline. She has an easy to milk udder, and it'll be exciting to see how she performs on milk test this year.
DAM:
STORYBROOKS LASTOFTHE MOHICANS 1*M +VV+83
DAM'S DAM:
STORYBROOKS COLOR OF THE WIND
DAM'S SIRE:
CASTLE ROCK COULTER PINES *B +VV85
SIRE:
CACTUS-FLOWER SPIRIT RENEGADE VVE88
SIRE'S DAM:
SG CACTUS-FLOWER PURE COUNTRY VEEV90
SIRE'S SIRE:
DESERTNANNY BR SPIRIT HORSE *B VEE90
DHIR MILK TESTING RECORDS
2020 - 1 buckling
2021 - 1 buckling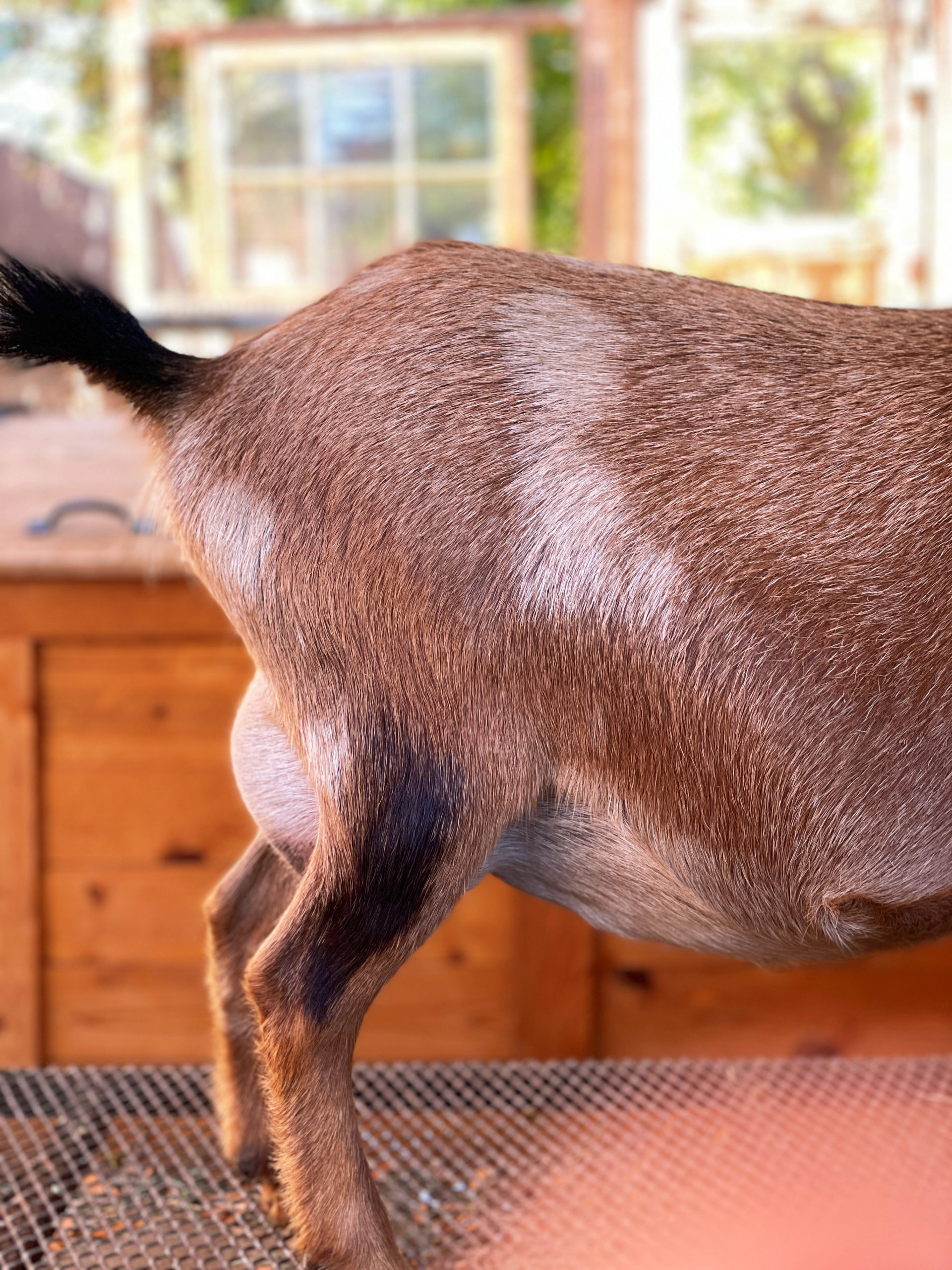 Tatum is our second doeling retained out of Tilly and the famous Moon Ryder. She has already surpassed her dam in height and we're excited to see how this little girl develops. She is such a cute little moonspotted doe!
DAM:
BACK IN TIME SD TILLY 1*M

DAM'S DAM:
BACK IN TIME DD SISSY
DAM'S SIRE:
THE BLUNDEROSA SCOOBIE-DOO
SIRE:
AGS K BAR SEVEN BM MOON RYDER +B

SIRE'S DAM:
AGS STERLING STABLES KWK WILLOW
SIRE'S SIRE:
AGS DESERT VALLEY AD BLUE MOON
1x GRAND CHAMPION
1x BEST JR. DOE IN SHOW
DHIR MILK TESTING RECORDS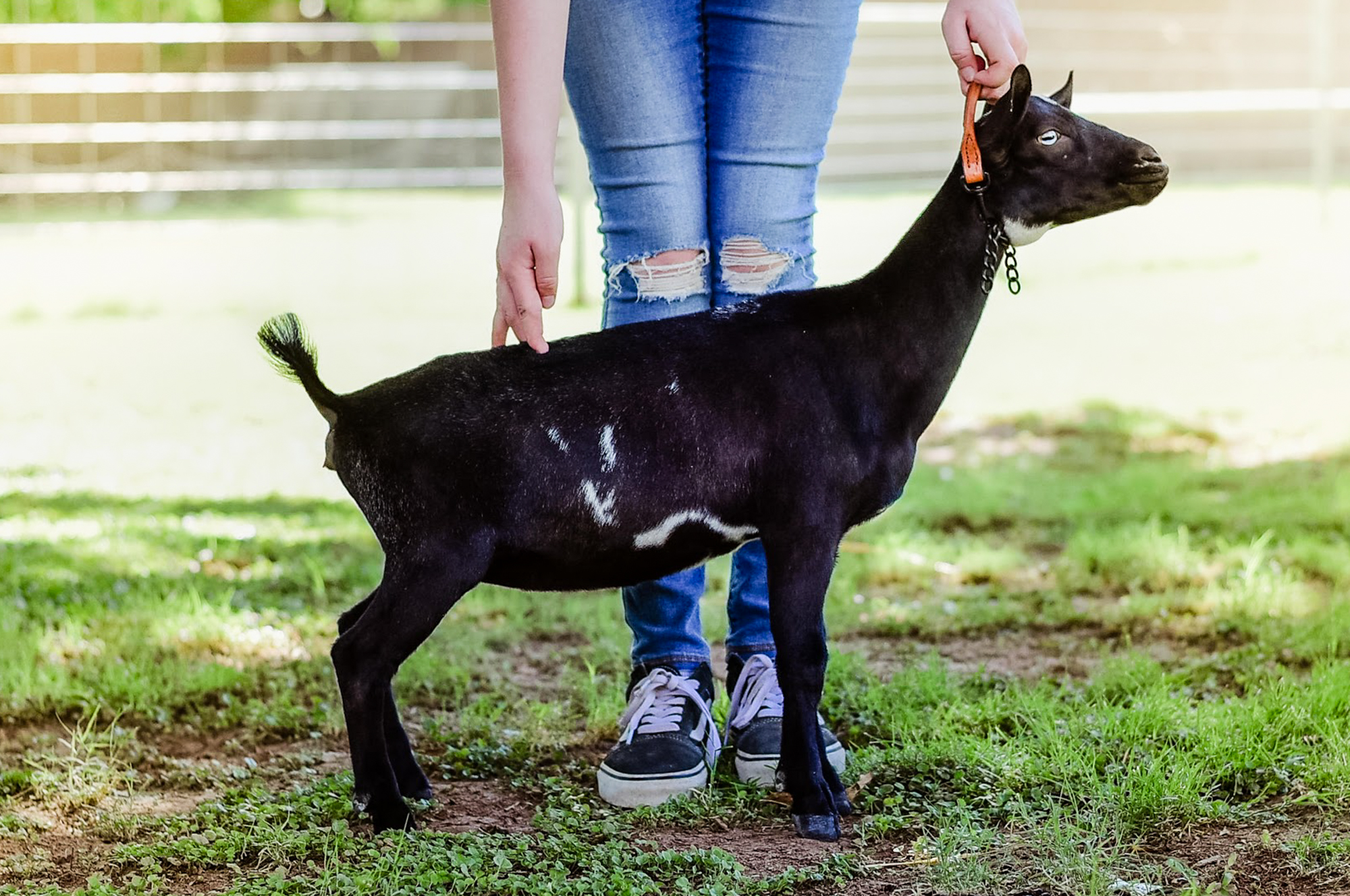 DAM:
BLUE CACTUS LILLIE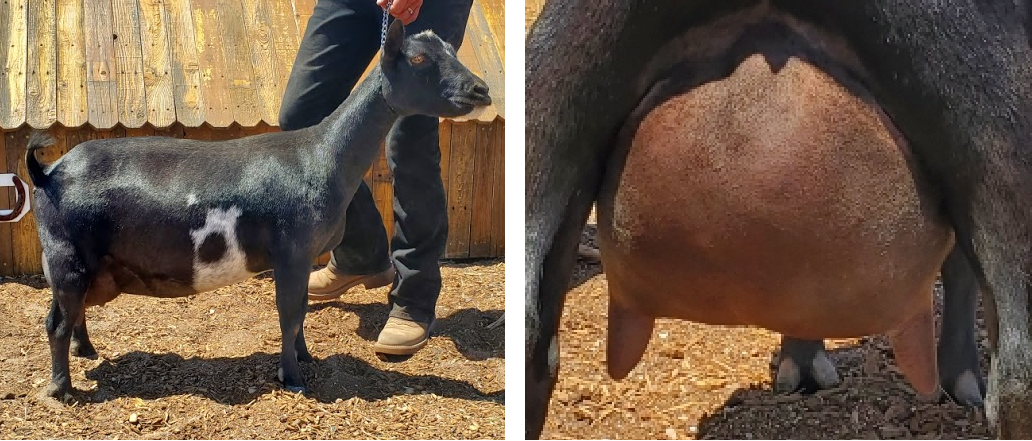 DAM'S DAM:
DESERTNANNY UMA ROYAL LACE 4*M
(2x Grand Champion, 2x Best of Breed)
DAM'S SIRE:
BLUE CACTUS OBIE MY CHAMP
(Dam is GCH AGS Dreams Come True BE OBIE 1*D 1*M LA: VEEE 90)
SIRE:
LILCOUNTRYKIDS SM EVEREST
(1x Reserve Grand Champion)

SIRE'S DAM:
LILCOUNTRYKIDS ZU SNOWBALL 1*M
SIRE'S SIRE:
LILCOUNTRYKIDS SR SUPERMAN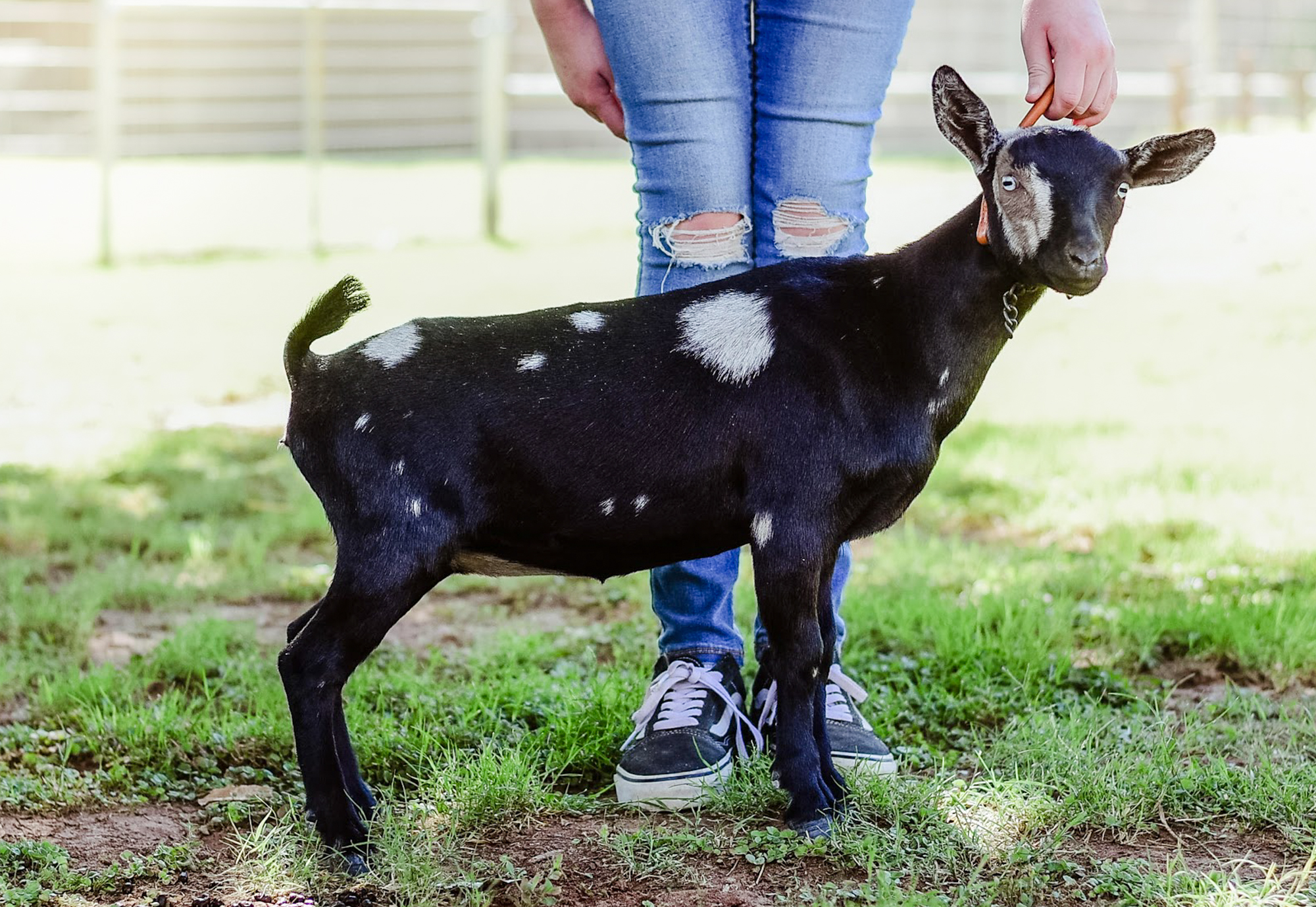 DAM:
SGCH VALLEY'S-EDGE D'LICIOUS 1*M VVVV87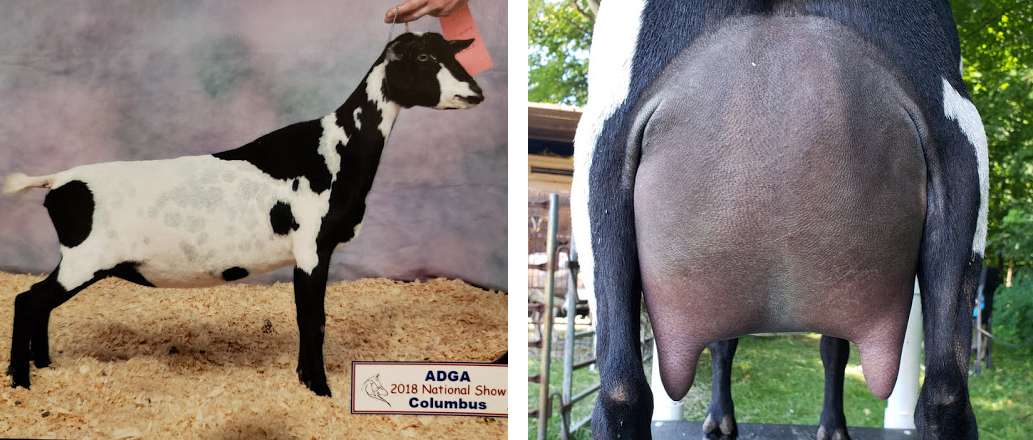 (4x Grand Champion, 6x Best of Breed, 1x Reserve Grand Champion, 1x Best Doe in Show - out of 270+, 5th place Senior yearling at 2018 Nationals - out of 80+)
2019 - DIM 305- 1,155 lbs 84lbs F 58lbs P
2021 - DIM 305 - 1,301 lbs 98lbs F 60lbs P
DAM'S DAM:
SG VALLEY'S-EDGE MB MEADOW LARK
DAM'S SIRE:
VALLEY'S-EDGE DASHBOARDLIGHT
SIRE:
THE RZ ACRES HOMECMGKING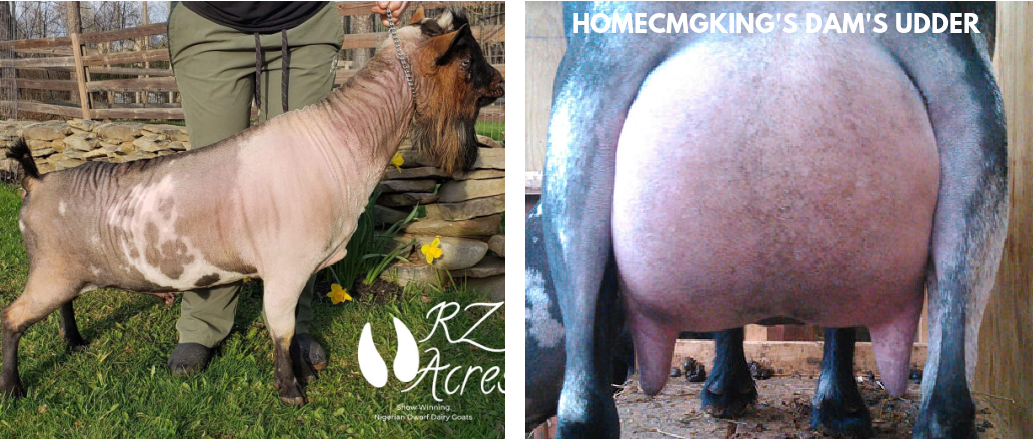 SIRE'S DAM:
AGS TINY ANGELS A BLU BONNET VEEE90
1250+ milker
SIRE'S SIRE:
GCH VIOLET'S ACRE VALEDICTORIAN *B VEV87
(3x Grand Champion, 2x Best of Breed, 1x Best in Show out of 137, 2x Reserve Grand Champion, 8x 1st Place in Age Class)